Password Reset and Requirements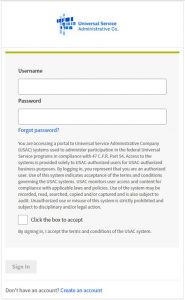 For added security, users must update their system password every 90 days.
USF application and system users can change account passwords or reset a lost password through the log in screen.
To update or change a password:
Select "Forgot Password" on the sign on screen
Enter your username (primary email address) and click the "Reset via email" button
USAC will send you an email to set up a new password
Click the link in the email and enter your new password
This video walks users through the password reset process.
Password Requirements
Passwords must contain:
At least 8 characters
One uppercase letter
One lowercase letter
One special character
Additionally, users cannot reuse any of their last 8 passwords.