Our Mission
Dedicated to achieving universal service.
This important principle suggests that everyone in the U.S. deserves high-speed connectivity that is:
The USF + USAC + FCC
As an independent not-for-profit designated by the FCC, USAC administers the Universal Service Fund (USF). The USF is almost $10 billion and is available annually thanks to the companies and institutions that make universal service possible.
USF Programs
With the guidance of policy created by the FCC, we collect and deliver funding through four programs focused on places where broadband and connectivity needs are critical. These programs serve people in rural, underserved, and difficult-to-reach areas.
Tribal Nations
Working at the infrastructure, community, and individual level, Universal Service Fund programs help connect Tribal communities to phone and broadband services. For more information and resources, go to our Tribal Nations Section.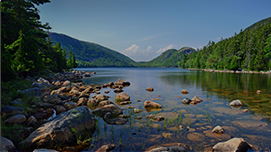 Service Providers
Telecommunications companies support our mission in two critical ways: contributing money to the Universal Service Fund and participating in the USF and Congressional Response Programs. Learn more about both service provider roles.
Congressional Response Programs
In response to the COVID-19 pandemic, Congress created multiple programs to help people stay connected during and beyond this disruptive period. The FCC designated USAC to administer these programs and funds.