The HUBB Portal
Carriers participating in modernized Connect America Fund programs must file broadband deployment data with USAC's HUBB (High Cost Universal Broadband) portal showing where they are building out mass-market, high-speed Internet service. This information includes latitude and longitude coordinates for every location where service is available, and is the foundation for the Connect America Fund (CAF) Map, which shows the impact of CAF support on broadband expansion in rural America.
The HUBB portal is accessible through USAC's E-File system. Once you are logged in, click on "HUBB" on the left-hand navigation panel. Users and agents can upload, validate, and save data. Officers can perform all of those functions as well as certify locations.
HUBB Filing Deadlines
Carriers participating in the following funds have until March 2, 2020 to file geolocation data for locations deployed in 2019:
Connect America Fund (CAF) Phase II: Note that CAF II carriers must be at least 80 percent of the way deployed toward their total build-out obligations by the end of 2019 or face potential loss of support. This 80 percent build-out milestone applies in each state where the carrier receives support.
Alternative Connect America Cost Model (A-CAM), Revised ACAM and ACAM II: Note that ACAM II carriers have until March 1, 2021 to report pre-2019 broadband deployment.
Connect America Fund-Broadband Loop Support (CAF-BLS): Note that all CAF-BLS carriers are now subject to HUBB reporting obligations and have until March 2, 2020 to report broadband deployment completed in 2019. This includes CAF-BLS carriers that were previously exempt from HUBB reporting obligations because they had already built out broadband at speeds of at least 10 Mbps downstream/1 Mbps upstream (10/1 Mbps) to at least  80 percent of their study area. These carriers have until March 1, 2021 to report pre-2019 broadband deployment at speeds of at least 25 Mbps downstream/3 Mbps upstream (25/3 Mbps) completed since May 25, 2016.
Rural Broadband Experiments (RBE)
Alaska Plan
Please note that carriers that did not deploy any locations in 2019 must still log into the HUBB and certify "no locations to upload" by March 2, 2020.
Collecting Location Data
To help you prepare your data, we have created Geolocation Methods: A guide to successfully collecting broadband deployment data. This guide describes three methods for gathering geographic coordinates, with the pros and cons of each approach. You can use any method or combination of methods to gather the correct geographic coordinates for the locations you serve or could serve. Accurate data is the key to filing successfully with the HUBB portal.
Your Input Made a Difference
USAC has been designing and developing the HUBB portal with your needs in mind.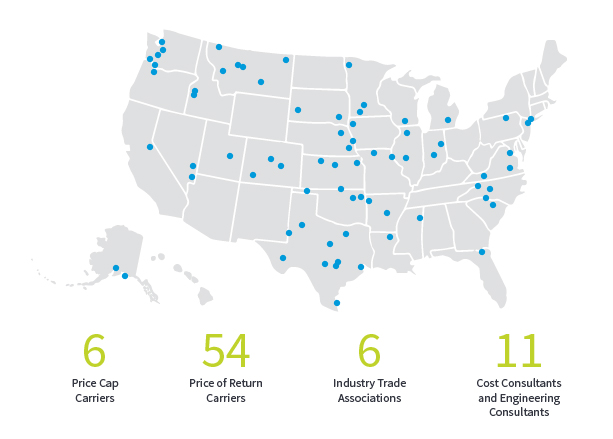 We have conducted a comprehensive outreach campaign, meeting with carriers, consultants, engineers, and other stakeholders who will file data with the HUBB portal. We held multiple focus groups, conducted site visits, did extensive user prototype testing, participated in industry conferences and trade shows, held more than two dozen stakeholder meetings and briefings, and conducted a survey. The input we gathered is informing the design of this new portal.
Based on the feedback we received, we have included the following features in the HUBB portal:
Bulk upload capability (i.e. CSV format)
One-file upload for multiple study area codes
Option to submit part of a filing, even if other parts contain errors
Output of a machine-readable issues log that can be ingested into third-party systems to automatically parse consistent error codes
We appreciate the time and effort so many of you have devoted to help ensure that this is a success. Thank you!
Stay Informed
USAC is here to help you navigate these changes successfully. We will provide updates on this page, through the HUBB portal email distribution list, and through other ongoing communications with stakeholders. For regular updates, please sign up for the HUBB portal email distribution list, entitled "High Cost Detailed HUBB Updates," in the USAC's Subscription Center.
If you have any questions or concerns, contact us via email.