Join us to learn about High Cost program updates, including High Cost program rules and orders, guidance about compliance and filings, the HUBB portal, and more.
Upcoming Trainings
There are no upcoming webinars at this time. Please check back.
Most Recent Webinar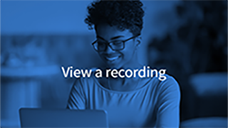 Performance Measures Testing: New Sample Generation
December 05, 2023 | 56:47 minutes
Materials:
Overview
Please join USAC for a webinar overview of the FCC performance measures testing requirements and the process for generating new subscriber location samples for testing, as well as a walk-though of the Performance Measures Module (PMM)
Carriers participating in the Connect America Fund II Auction (CAF II Auction), Alternative Connect America Cost Model II (ACAM II) and Connect America Fund Broadband Loop Support (CAF BLS) funds, as well as ACS, must obtain new random samples of subscriber locations for ongoing quarterly network speed and latency testing in 2024 in order to comply with the Federal Communications Commission (FCC) Performance Measures testing framework.