Join us to hear updates about the High Cost program, including High Cost rules and orders, guidance about compliance and filings, the HUBB portal, and the other topics.
Upcoming Trainings
Overview
Join USAC's High Cost Program staff and Internal Audit staff to learn more about how High Cost carriers can avoid common audit findings.
We will discuss:
• Common Errors
• How to Identify Errors
• Best Practices to Avoid Errors
• Open Q&A
Most Recent Webinar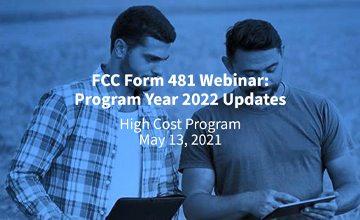 Form 481 Updates Webinar
May 13, 2021 | 32:42 minutes
Materials:
Overview
USAC invites High Cost program carriers to join us for a webinar about the program year 2022 updates to the FCC Form 481the Carrier Annual Reporting Data Collection Form. The webinar will focus on relevant changes to the FCC Form 481 for program year 2022 (due July 1, 2021).
Previous Trainings
Filing in the HUBB Portal
January 19, 2021 | 56:47 minutes
Broadband Deployment Milestones and Verification Reviews for ACAM Carriers
December 03, 2020 | 56:56 minutes
Performance Measures Testing
November 19, 2020 | 67:02 minutes
Avoiding Common Audit Findings
November 05, 2020 | 28:56 minutes
ELAP Overview For CAF II Auction Winners
October 20, 2020 | 32:16 minutes
Expanding the State Access Tool
August 05, 2020 | 33:48 minutes
FCC Form 481 Updates Webinar
May 14, 2020 | 21:13 minutes
Alaska Plan Middle Mile Webinar
February 12, 2020 | 19:50 minutes
Filing in the HUBB Portal
January 21, 2020 | 37:21 minutes
Avoiding Common Audit Findings
December 10, 2019 | 24:45 minutes
Letters of Credit and Opinions of Counsel: A Webinar for Winning Bidders
October 03, 2019 | 19:30 minutes
FCC Form 481 Webinar: Program Year 2020 Updates
May 07, 2019 | 19:30 minutes
Filing with the HUBB Portal
January 31, 2019 | 43:51 minutes
Avoid Common Audit Findings
December 20, 2018 | 31:30 minutes
Submitting Middle Mile Node Data in HUBB
May 21, 2018 | 25:09 minutes
Mobility Fund II Challenge Process Portal
April 18, 2018 | 53:45 minutes
FCC Form 481 Updates Webinar
April 01, 2018 | 9:51 minutes
How to Be Successful with the HUBB Portal
January 12, 2017 | 53:33 minutes
Rate-of-Return Reform Order Q&A with the FCC
October 06, 2016 | 40:16 minutes