Connected Care Pilot Program
In its Report and Order FCC 20-44 released on April 2, 2020, the FCC established a new three-year Connected Care Pilot Program which will provide up to $100 million of support from the Universal Service Fund (USF) to help defray eligible health care providers' costs of providing connected care services and help assess how USF funds might be used to support connected care services. The FCC is in the process of implementing the Connected Care Pilot Program.
The Connected Care Pilot will provide funding for selected pilot projects to cover 85% of the eligible costs of broadband connectivity, certain network equipment (e.g., network equipment needed to make a support broadband service functional, such as a router), and information services necessary to provide connected care services to the intended patient population. In selecting pilot projects from eligible health care providers (HCPs), the FCC has a strong preference for pilot projects that will primarily benefit low-income Americans or veterans qualified for VA health care.
For non-profit and public health care providers interested in participating in the Connected Care Pilot, the first step is to submit an FCC Form 460(s) to demonstrate eligibility and obtain a HCP number(s) from USAC and an eligibility determination(s). FCC Forms 460 typically take 30 days to process and an approved FCC Form 460 is necessary to start a Connected Care Pilot application, so early submission is strongly encouraged. More information about the FCC Form 460 application process is below.
Application Filing Window
On November 5, the Federal Communications Commission (FCC) released Public Notice DA 20-1315 providing guidance on the application process timeline. The application filing window opens Friday, November 6, 2020, at 12:00 p.m. ET and will close on Monday, December 7, 2020, at 11:59 p.m. ET. The application is available at the My Portal login page. To access the Pilot Program application, eligible health care providers will use their My Portal login credentials that were provided when their FCC Form 460 (Eligibility and Registration Form) was approved for their eligible site. Download the Application Guide.
Watch the Connected Care Pilot Program Information Webinar for a walkthrough of the application: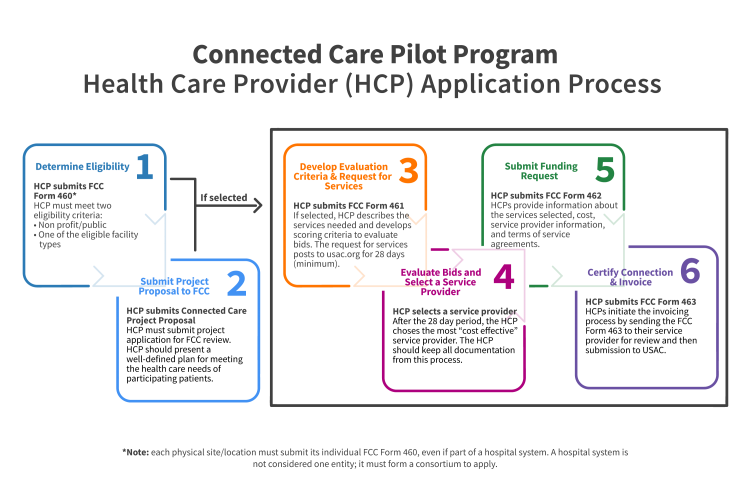 The FCC will announce the application opening window. Once the window is open, eligible HCPs should complete and submit the application and any supporting documentation, describing the proposed pilot project and how connected care services will be used to serve the health care needs of participating patients. The FCC will evaluate the applications and select pilot projects. Eligible HCPs will design their proposed pilot projects, select the service providers for the eligible supported services and network equipment, and identify and enroll the qualifying, participating patients. After selection, selected pilot projects will be required to submit an FCC Form 461 to competitively bid for eligible items (unless an exemption applies) and submit a request for funding (FCC Form 462) for eligible items. Disbursements for approved eligible items will be issued to service providers based on the submission of an invoicing form (FCC Form 463).
To stay current, check the Connected Care Pilot Program web page or sign up for the Connected Care Pilot Program listserv.
Are you eligible?
A health care provider must meet the following two criteria to be eligible for the Connected Care Pilot:
Must be a public or nonprofit entity and
Must be one of the following types of facilities:

A post-secondary educational institution offering healthcare instruction, such as a teaching hospital or medical school,
A community health center or health center providing healthcare to migrants,
A local health department or agency,
A community mental health center,
A not-for-profit hospital,
A rural health clinic,
The dedicated emergency room of a rural, for-profit hospital,
A skilled nursing facility (SNF), or
A consortium of HCPs that includes at least one of the facilities mentioned above.
Eligible health care providers located in rural or non-rural areas are eligible to apply. HCPs located in non-rural areas do not need to be part of a majority rural consortium in order to participate in the Connected Care Pilot.
Determine Eligibility with the FCC Form 460
Prospective applicants must request an eligibility determination using the FCC Form 460 and will receive a health care provider number (HCP number) upon submission of this form. An HCP number is required for each site or location that is included in a Connected Care Pilot application.
Already have an approved FCC Form 460? Those applicants who have already received an eligibility determination by submitting an FCC Form 460 for the Healthcare Connect Fund (HCF) Program or COVID-19 Telehealth Program will be able to use that HCP Number and eligibility determination when applying for the Connected Care Pilot.
Applying as a Consortium
A consortium is a group of eligible HCPs that apply as a single entity. To apply as a consortium, each participating site must be an eligible HCP with an approved FCC Form 460, and the consortium will also need an approved FCC Form 460.
Interested HCPs that have received an eligibility determination only through an FCC Form 465, or that received eligibility determinations for multiple eligible sites that should be linked as a consortium should contact the RHC Help Desk.
What are "Connected Care Services" and what is eligible for support?
The FCC defines "connected care services" as "a subset of telehealth that uses broadband Internet access service-enabled technologies to deliver remote medical, diagnostic, patient-centered, and treatment-related services directly to patients outside of traditional brick and mortar medical facilities—including specifically to patients at their mobile location or residence."
The Connected Care Pilot will provide support for 85% of the cost of eligible services and certain network equipment, which include:
patient broadband Internet access services,
HCP broadband data connections,
other connected care information services, and
certain network equipment (e.g., equipment necessary to make a supported broadband service functional such as routers).
The Connected Care Pilot will not provide funding for devices, including end-user connected devices (e.g., tablets, smart phones or remote patient monitoring equipment), medical equipment, HCP administrative costs, personnel costs (including, but not limited to medical professional costs), or other miscellaneous expenses. The Connected Care Pilot will also not fund network deployment, the construction of networks between HCPs, or connectivity services between HCP sites.
Once selected, pilot projects will need to seek competitive bids for the eligible items for which they intend to seek support unless an exemption to the competitive bidding requirements applies.
How to Apply for the Connected Care Pilot Program
HCPs that have been determined to be eligible via filing an FCC Form 460 can apply for the Pilot Program.
The application for the Connected Care Pilot is not yet available, but interested applicants can begin to collect the information outlined in Public Notice DA 20-1019, which includes information that the FCC anticipates applicants will be required to submit as part of their pilot project application.
Who to Contact about your Application
Questions about the Connected Care Pilot Program should be directed to the RHC Help Desk.