Connected Care Pilot Program
In its Report and Order FCC 20-44 released on April 2, 2020, the FCC established a new three-year Connected Care Pilot Program which will provide up to $100 million of support from the Universal Service Fund (USF) to help defray eligible health care providers' costs of providing connected care services and help assess how USF funds might be used to support connected care services.
The Connected Care Pilot will provide funding for selected pilot projects to cover 85% of the eligible costs of broadband connectivity, certain network equipment (e.g., network equipment needed to make a support broadband service functional, such as a router), and information services necessary to provide connected care services to the intended patient population. In selecting pilot projects from eligible health care providers (HCPs), the FCC has a strong preference for pilot projects that will primarily benefit low-income Americans or veterans. These projects will also address public health epidemics, opioid dependency, mental health conditions, maternal heath/high-risk pregnancy, and chronic or recurring conditions, conditions that are the focus of the Pilot Program. Funding these projects will help bring connected care services to rural, Tribal, and other underserved areas nationwide.
The Connected Care Pilot Program application window closed on December 7, 2020 at 11:59 p.m. ET.
Selection Announcements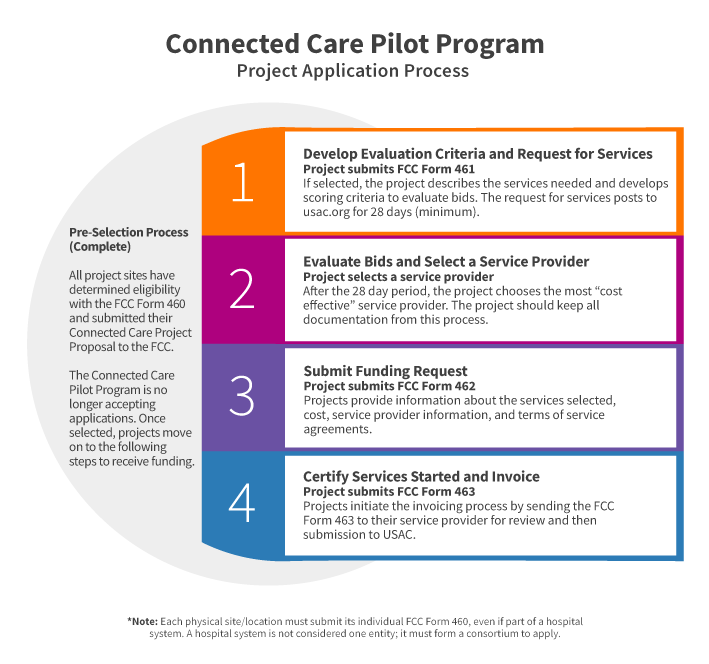 Next Steps for Selected Applicants
Selected pilot projects will use the Healthcare Connect Fund (HCF) program forms, with slight revisions, to initiate the competitive bidding process, request funding, and submit invoices. To prepare for the next steps, we encourage selected pilot projects to familiarize themselves with the HCF program forms for competitive bidding, funding requests, and invoicing. Download blank HCF program forms.
All forms and supporting documentation are submitted in My Portal, USAC's online application management system used for the RHC program. Selected pilot projects gained access to My Portal when they submitted the FCC Form 460 for the sites participating in their pilot project.
Selected pilot projects are required to conduct a fair and open competitive bidding process to solicit and select eligible services and/or equipment. Selected pilot projects are required to identify the services needed and develop the bid evaluation criteria used to assess service provider bids by completing the FCC Form 461 (Request for Services Form).
Once your FCC Form 461 is approved, it will be posted on the USAC public website for a minimum of 28 days before you can select a service provider and sign a contract. All posted services are available on the USAC public website for service providers to view and download. Service providers interested in providing your site with the requested services will respond to your posting with a bid demonstrating how they meet your evaluation criteria. You must submit the FCC Form 461 unless you meet one of the competitive bidding exemptions. To learn more, visit the Connected Care Pilot Program (CCPP) Competitive Bidding Exemptions page.
The last day to post your initial FCC Form 461 to the USAC website is August 18, 2022 to meet the hard deadline of September 16, 2022 to file your initial FCC Form 462.
Once competitive bidding is complete, you will select the most cost-effective service provider and submit an FCC Form 462 (Funding Request Form) to USAC with specific pricing and service information for the funding you are requesting through the Connected Care Pilot Program.
On May 20, 2022, the FCC release Public Notice DA 22-560 summarizing upcoming Connected Care Pilot Program (CCPP) deadlines. The deadline for all selected CCPP projects to submit their initial funding request for funding (FCC Form 462) is September 16, 2022.
USAC will review the funding requests and issue Funding Commitment Letters (FCLs) to you and your service provider indicating the amount committed under CCPP.
After providing the eligible services and/or equipment, you and your service provider will certify and submit invoicing forms (FCC Form 463), along with supporting documentation, to USAC. Once approved, the service provider will receive reimbursement for the cost of the eligible services and/or equipment they have provided to you.
For more information about the Connected Care Pilot Program, watch the kickoff webinar below:
Download the webinar slides.
What are "Connected Care Services" and what is eligible for support?
The FCC defines "connected care services" as "a subset of telehealth that uses broadband Internet access service-enabled technologies to deliver remote medical, diagnostic, patient-centered, and treatment-related services directly to patients outside of traditional brick and mortar medical facilities—including specifically to patients at their mobile location or residence."
On November 5, 2020, the FCC released Public Notice DA 20-1315, further elaborating on eligible services. Learn more about the eligible services.