Help Connect America
Are you driven to make a meaningful impact and help others? You belong here. Our mission to achieve universal service addresses America's current critical needs to build out broadband capabilities for telehealth, online learning, and keeping families connected. Join us and help USAC accomplish our mission to bridge the digital divide.
A Multicultural Team
We have actively built an organization that doesn't just celebrate our diversity; we depend on it. The challenges of achieving universal service require creative and unique perspectives. Our accepting and inclusive community will challenge you to grow and learn from others while always recognizing the value of your contribution.
Benefits
While you're supporting our mission, we'll support you.
Go to the Benefits page for more details.
Retirement

Save for retirement with help from our 11% guaranteed 401(k) contribution.
Healthcare

Keep the entire family healthy with top-of-the-line medical, dental, and vision coverage for just $10 a month.
Hybrid Work with Generous Commuting Benefits

Set a flexible hybrid work schedule and let us contribute up to $300 per month for buses, trains, and parking.
And More

These benefits are just the start. See our full list of benefits, including paid time off, tuition reimbursement, and much more.
The Hiring Process
We want all of our candidates—from early professionals to leadership—to know what to expect so they can be at their best throughout the hiring process.
Here's what you can expect as a candidate.
1
Apply Online
Use the careers portal to find a role that interests you and click to apply. If it's your first time applying for a position at USAC, we'll ask you to create a candidate profile to tell us a little bit about yourself.
2
Speak with a Recruiter
We'll have a quick virtual conversation by phone or video to discuss the role and access how your knowledge and skills align.
If you're applying for a technical or specialty role, we may ask you to complete a skills assessment (e.g., coding quiz) or provide samples of your work (e.g., writing samples).
3
Interview with the Hiring Manager
If our recruiting team thinks you're a potential match, they'll invite you to meet with the hiring manager. These conversations typically last 30-60 minutes and may also include other team members.
4
Receive a Decision
After we've completed the interview process, your recruiter will reach out with an offer if it's a match.
Once you've accepted, you'll receive everything you need to begin the onboarding process.
Teams
From telecommunications engineers to librarians, from analysts to developers, experts from all walks of life play crucial roles in achieving Universal Service. Find out where your expertise can support our mission by searching our open positions.
Universal Service needs you. Find your role in our mission.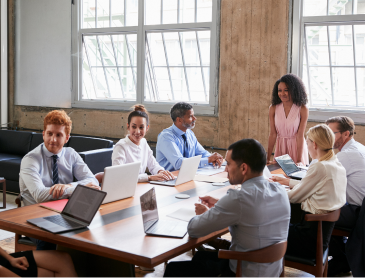 Students
Looking to launch your post-college career? We believe there is no better place to start than at USAC, where our program analysts take on meaningful projects and have countless opportunities to grow their skills. Learn more about our community of young professionals.
Still a few years away from graduation? Through our Career Path Internship Program, we offer paid year-long internships that have the potential to evolve into full-time positions, empowering you to embark on a professional journey with purpose.