E-Rate System Consolidation
The E-Rate System Consolidation effort integrates the invoicing, appeals and post-commitment functions into the E-Rate Productivity Center (EPC), giving users a single platform on which to conduct all E-Rate transactions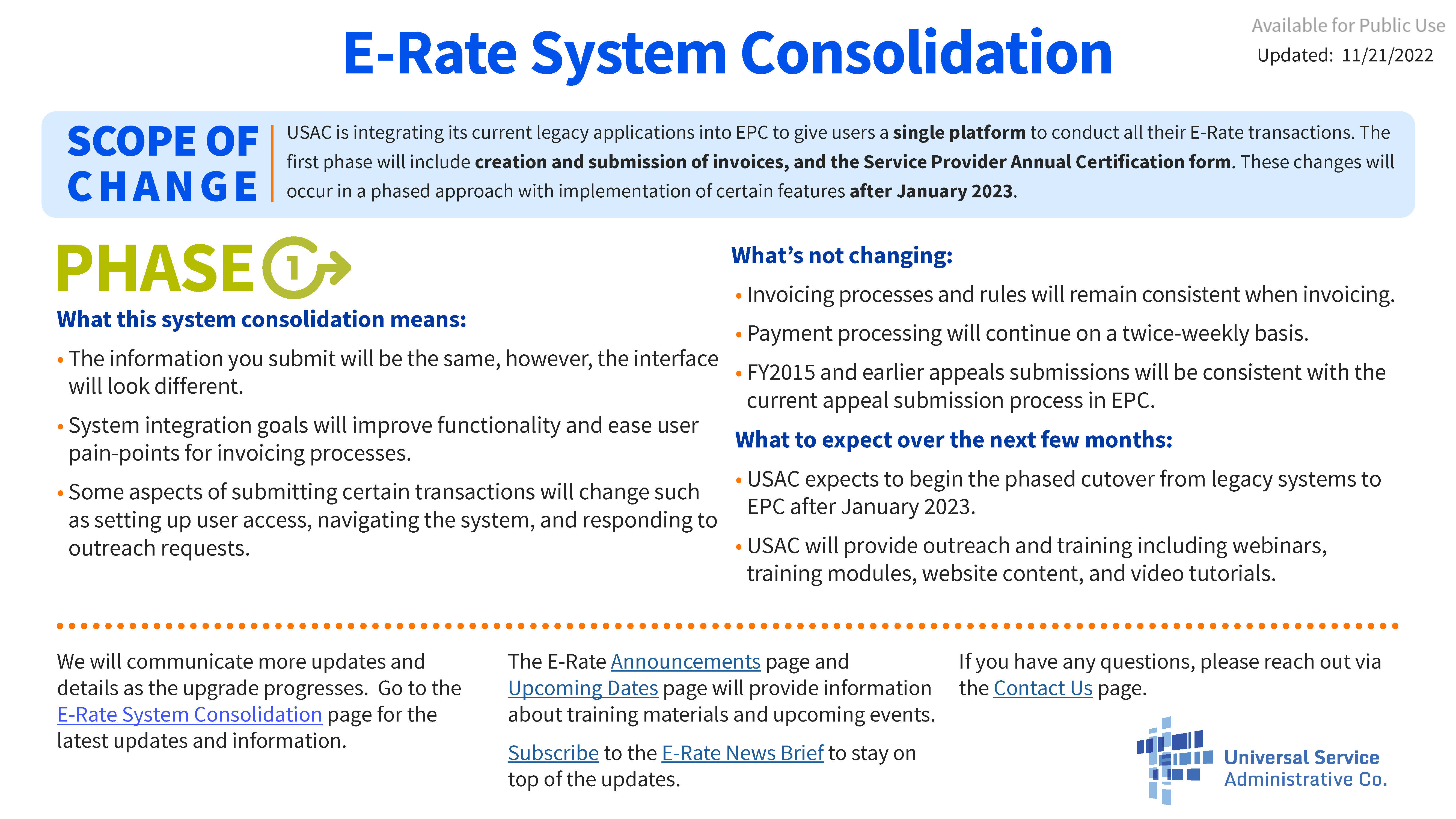 FAQs
When will the consolidation begin?
The integration effort is underway and USAC has been taking the initial behind-the-scene steps to move the data into EPC and build its form intake and review functions. These steps do not affect the current invoicing or post-commitment processes. USAC expects to make the cutover to EPC in a phased approach beginning with implementation of some features after January 2023.
How will this change affect E-Rate participants?
When USAC implements the first phase of consolidation after January 2023, users will create and submit FCC Form 472 (BEAR), FCC Form 474 (SPI), and Electronic Service Provider Invoice (ESPI) submissions in EPC. Additionally, the process for submitting Appeals for FY2015 and prior will move to EPC where customers already submit appeals for FYs 2016 and later.
Where will I be able to see the status of invoice lines submitted after the transition?
The invoice lines and all details about these lines will be available in EPC. Information on paid invoice lines will continue to be posted in USAC's E-Rate Open Data tools.
Will invoicing notifications (such as remittance statements) still be mailed to applicants and service providers through the U.S. Postal Service?
No. All notifications, including remittance statements, will be sent through the EPC platform providing users with a consolidated place to locate and view information on the status of their E-Rate invoice requests.
Where and when can I get more information on these changes?
The E-Rate System Consolidation page on the E-Rate website includes updates and information about this consolidation effort. USAC will also add content to its Announcements page and Upcoming Dates page, and provide important information in its monthly E-Rate News Briefs, including Special Editions as needed, to keep you aware of key dates and any actions required by E-Rate participants.
Will USAC provide training and resources to assist users submitting invoices?
USAC will provide support surrounding the transition to EPC including learning modules, E-Rate News Brief articles, and webinars. The E-Rate Announcements page and Upcoming Dates page will also provide information about training materials and upcoming events related to this consolidation effort. Subscribe to the E-Rate News Brief to stay on top of the updates, if you have not done so yet.
Who should I contact with any questions about this E-Rate Legacy system consolidation?
Please contact the E-Rate Customer Service Center (CSC) by creating a case in EPC or by calling (888) 203-8100, Monday through Friday, 8 am to 8 pm E.T. New users to the E-Rate program should call CSC to set up an EPC user account.