The top section of the first page identifies your account name and billing address. In the top right hand corner is a summary of the invoice that includes the payment due date and your balance at the time USAC generated the invoice.
If the account has any debt that is or will be over 30 days delinquent, the new balance on the invoice will not be the total amount due as the debt is incurring interest and penalties daily. Companies with delinquent debt must contact customer support to obtain the pay-off amount which would include accrued penalties.
The Account Status section will indicate if the account is in good standing or in Red Light status. This section will also list any outstanding issues on FCC Form 499-As.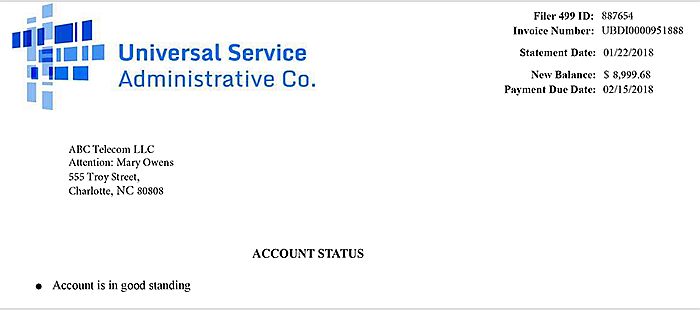 Account Summary Components
Filer 499 ID – Unique six-digit identifier for each company
Invoice Number – Unique number for each invoice
Statement Date – Date that the invoice was generated
New Balance – The balance due as of the date the invoice was generated
Payment Due Date – Date on or before which the balance indicated on this invoice needs to be paid